Did you know police (known as patrol groups back then) were initially created in the 1700s to ensure the preservation of slavery? To make sure the enslaved didn't try to break free? Later, another police force was created in order to round up and "manage" immigrants. Since the beginning of time, since they were established, the police has been a race-based institution clearly and shamelessly targeting people of colour in a much more aggressive demeanour than anyone else.
POC have experienced an influx of arrests in the recent decades. They continue to be disproportionally incarcerated, they're given death sentences more often, they're continually being disenfranchised and even though they make up roughly 30% of the American population, they account for over 60% of prison populations. Make it make sense.
In my experience, people aren't receptive. Many think of racism as something that's palpable and in your face, but the reality is it's so much more insidious. It's not just your homie who says the n-word, racism is systematic, enduring, and engrained into nearly every aspect of life. It affects every person of colour, from the day they're born to the day they die.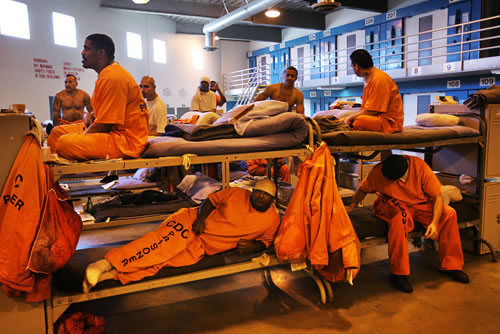 People of colour experience encounters with law enforcement disproportionately, too often a black person is driving peacefully and is stopped in his/her tracks because they "appear dangerous" or because their "car is too nice" so naturally it must be stolen. 1 in 3 black men may go to prison in their lifetime, (BOJ Statistics) students of colour face more harsh punishments for the same mistakes which leads to POC youth having a much higher rate of incarceration.
The phrase "Black Lives Matter" should not trigger a defensive response in you.
Stop complaining about protests. Protests gave you your rights as a woman, your rights as an employee, 8 hour work days instead of 16 hour ones, and free speech. For all the people making nasty faces at the protests and calling them unnecessary, condemning them without offering redress, your "spread love not hate" "peace and happiness" "peaceful protests" messages aren't denouncing white supremacy, but guarding it. Peace has never made progress.
Innocent lives lost will always be more important than your discomfort. Listen to people of colour, especially to the black community.
And finally, be willing to be uncomfortable. Be willing to listen. Be willing to change and adapt. Be willing to call your friends out on their not-so-internal racism. Don't be willing to let our youth slip through the cracks into the depths of merciless and enduring discrimination. Be willing to fight for change.
Yes, racism is still a thing.